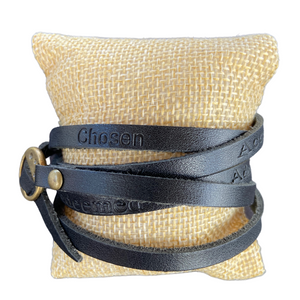 Introducing our Believing God Bracelet - A Testament of Faith and Identity
Elevate your faith and carry a powerful reminder of your identity in Christ with our meticulously crafted Believing God bracelet. Crafted with precision, this engraved leather bracelet is designed for those who desire to testify and embrace their unique standing in Christ.
Engraved with profound words drawn from the book of Ephesians 1, each time you wear this bracelet, you proudly bear the following attributes:
🌟 Chosen 👀 Seen 🙌 Beloved ✨ Forgiven 🕊️ Holy 🤗 Accepted ✝️ Blameless 🔗 Redeemed 👨‍👩‍👧‍👦 Adopted 🧙 Known 🔓 Free
With its timeless and subtle design, the Believing God Bracelet seamlessly complements your everyday attire. Its genuine leather band provides unparalleled comfort, while the metal alloy clasp with an antique finish adds a touch of style and sophistication to your ensemble.
Here are the details at a glance:
📏 Adjustable Length: Tailor the fit to your preference.
✍️ Engraved: Each word etched with precision and care.
🧵 Genuine Leather: Ensures lasting quality and comfort.
⚙️ Metal Alloy with Antique Finish: Adds a touch of vintage elegance.
Wear your faith with pride and let your Believing God Bracelet be a constant reminder of the incredible inheritance you hold as a believer in Christ. Embrace your unique journey and celebrate your identity in Him. Experience the intersection of faith, fashion, and quality with this exceptional piece.
Order your Believing God Bracelet today and carry your testament of faith wherever you go. 
Imagine if you had the tools and daily encouragement you needed. That can very much be your reality with Believing God Leather Bracelet.

Inventory Last Updated: Nov 28, 2023