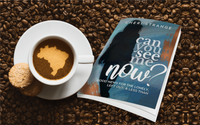 Can You See Me, Now? Good news for the Lonely, Left Out, and Less Than
If you have ever felt left out or ignored in the group, your just found your tribe. Grab a copy of Cheri's newest release and take the 75-day journey toward becoming seen.
Be sure to check out the other resources in the collection before you leave.
Buy Now
Gospel-Centered Resources

To help stir a desire for God into your everyday life
Bible Studies and Journals

Go deeper into God's Word
Renew Your Mind

Making Scripture an integral part of your day
Gospel-Centered Resources
To help stir a desire for God into your everyday life
Bible Studies and Journals
Go deeper into God's Word
Renew Your Mind
Making Scripture an integral part of your day