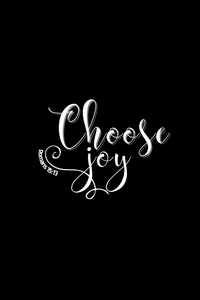 Experiencing joy is often a choice.
 You can 
choose joy
 with this inspirational journal to write your thoughts and ideas helping you focus on the deeper elements of life.
Lined pages

 for easy writing will help you focus on the positive and inspire a more positive vibe.

The 

cover 

alone will initiate conversations over coffee or lunch with a friend.

Make lists

, develop ideas, or journal your thoughts as they come.

Become more intentional 

with positive thoughts and gratitude as you record your thoughts day by day.

This compact and portable size is perfect for packing in a book bag, purse, or backpack.
Makes the 

ideal gift

 for the thought-filled people in your life who need avenues of expression.
Inside, you'll find 120 beautifully lined pages, carefully crafted to encourage your creativity and self-expression. Whether you're using it for daily journaling, jotting down your goals, or exploring your innermost thoughts, "Choose Joy" provides a supportive space for you to discover the power of joy in your life.
The elegant matte finish of the cover not only exudes a sense of sophistication but also ensures durability, making it suitable for everyday use. Its compact size makes it easy to carry with you wherever you go, ensuring you never miss a moment of inspiration.
"Choose Joy" isn't just a journal; it's a reminder to embrace positivity and find joy in every aspect of your life. With each turn of the page, you'll discover opportunities to cultivate gratitude, foster self-reflection, and manifest your dreams into reality.
Whether you're a dedicated writer, a goal-setter, or simply someone seeking a creative outlet, "Choose Joy" is the perfect tool to capture your thoughts and guide you on a path of personal growth. Embrace the power of joy and unlock your true potential with this captivating paperback journal.
The Choose Joy Journal is an encouraging customer favorite, and we hope you like it just as much.

Inventory Last Updated: Dec 11, 2023