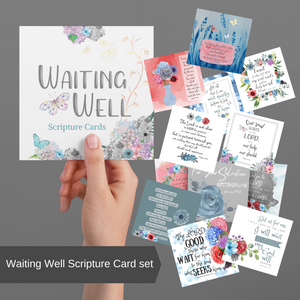 This set of Scripture cards includes 12 verse cards plus a cover. The set is designed to help you or someone you know, focus on key Scriptures from the Bible to help you during the waiting seasons. Who among us doesn't wait some time? Use these in your home, on a desk, or to give away to a person who needs encouragement to trust God when they feel like nothing is moving forward fast enough. 
The perfect companion to our Journal for Waiting Well, this set features the twelve focal verses utilized each of the 12-weeks to help sear them in your heart and mind.
Made of 16-point card stock with a matte finish, these 4 x 4 cards are professionally printed on one side, giving you the opportunity to write personal messages on the back. Perfect for keeping a set for yourself and giving one to a friend, neighbor, a family member, or anyone who needs words of encouragement along the way. 
The Waiting Well Scripture Card Set is surely to bring a smile, and priced at only $10.00, for a limited time.

Inventory Last Updated: Nov 28, 2023